Discover the epitome of elegance
with FLUIDO
Discover the epitome of elegance with FLUIDO, our exceptional floor-to-ceiling wardrobe solutions. Our brand invites you to step inside a world where boundless possibilities await. Immerse yourself in a realm of tailored design options, expert engineering, and captivating details that effortlessly elevate lifestyle aspirations. Explore the transformative power of our exquisite finishes and allow your space to radiate sophistication with our stunning design solutions.
Our Curated Shutter Catalogue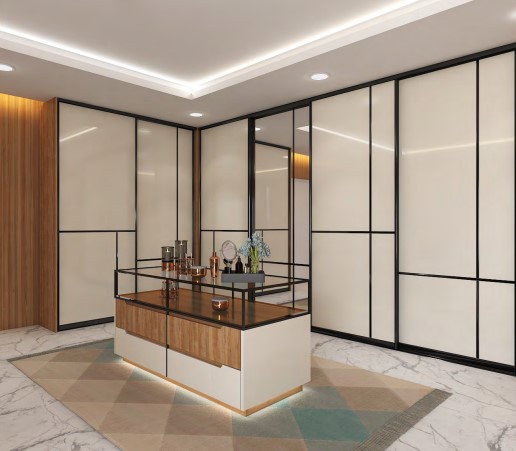 LUCENT
Introducing Lucent, our collection of floor-to-ceiling wardrobes crafted with white lacquered glass. Inspired by the beauty of light, each piece is a harmonious blend of minimalism and elegance. The white glass panels evoke purity...
OPULENT
Introducing Opulent, a collection that exudes lavish sophistication with floor-to-ceiling wardrobes adorned with exquisite, tinted mirrors and lacquered glass. Each piece combines the allure of reflective surfaces with the richnes...
MOTIF
Introducing Motif, our customised wallpaper and print infill collection that transforms your wardrobe into a work of art. Immerse yourself in enchanting patterns and captivating designs that adorn these stunning wardrobes. Each mo...
VIVID
Introducing Vivid, our captivating collection of floor-to-ceiling wardrobes adorned with clear mirrors. The mirrors create a mesmerizing display of light and depth that infuses your space with an enchanting radiance. Each wardrobe...
DYNAMIC
Introducing Dynamic, a collection of floor-to-ceiling wardrobes with asymmetric designs that exude energy and movement. Let your wardrobe make a statement with its unconventional lines and innovative arrangements. The Dynamic coll...
VISTA
Introducing Vista, a collection that unveils a world of artistic expression and refined aesthetics. With a seamless fusion of murals and lacquered glass, Vista transforms your floor-to-ceiling wardrobe into a stunning masterpiece....
LINEAR
Introducing Linear, a collection that celebrates the timeless allure of stripes with a harmonious blend of horizontal and vertical designs. The Linear collection features meticulously crafted stripes on floor-to-ceiling wardrobes,...
TRANSCEND
Introducing Transcend, our exceptional collection that merges sophistication and transcendence. With a captivating fusion of buff mirror and clear mirror finishes, the Transcend collection features a harmonious interplay of depth ...